Find a Friend
Webmaster News
New Feature!
Our "Snapshots page" is now up and running. To add photos, just sign in to your account and upload photos to your own gallery!
Alumni Homecoming
July 7 & 8, 2017
Join us in 2017! Honor Classes will be the Classes of 1957, 1967, 1977 and 1987 but all alumni, former students and faculty are welcomed!
Classic Radio Broadcasts: H.M.S. Richards Sr. with King's Heralds and Del Delker
A radio broadcast from the 1950s is posted every Thursday in the "Today at VOP" section at www.vop.com/today. These programs by our founder have been stored on reel-to-reel tapes for half a century. Now they are being converted to digital files so they can be enjoyed again. Broadcast-quality versions will soon be made available to radio stations.
Class of 1966 holds 50th Reunion in Lake Tahoe September 26 - 29, 2016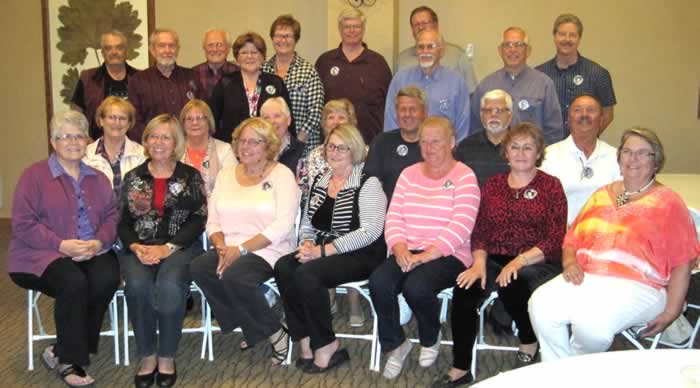 All rows left to right. Front row: Ardie Gallant, Laura Salzwedel, Debby McPherson, Carol Keller, Martha Fenner, Ellie McLachlin, Jean Craig. Second row: Adele Wright, Sue Zdun, Rose Griffin, Cathy Carle, Donn Swartz, Don Lloyd, Brent Bills. Third row: Geoff Russell, Craig Kleinert, Daryll Ward, Irene Dennison, Sue Carter, Paul Ashton, Dick Hamstra (standing behind Danny Howell), Dave Keyes, Neal Rosenquist. Tim Rasmussen, not shown.
---
Flora Kellogg Smith
Flora Kellogg Smith, former Academy faculty member in the 1960s, English teacher, wife of Walton W. Smith, died peacefully at home, at age 99, March 16, 2017. Her family has set up a Facebook page in memoriam: "Flora Kellogg". Please visit and leave comments. She was much loved.
---
AA Grad Publishes Book

Holly author and historian, Evelyn Lutz, has published the history of the Holly, Michigan, Seventh-day Adventist Church with much of Adelphian Academy's early years. as well. The title is HOW ADVENTISM CAME TO HOLLY, MICHIGAN -- And How It Grew.
Class of 1967
2017 is your 50th anniversary graduating Adelphian Academy.
Adelphian Academy Alumni Reunion on the weekend of
July 7 and July 8.
July 7, Friday Evening Vespers 7:30 PM at the Holly SDA Churchh
July 8, Sabbath School 9:15 AM at the Old Adelphian Campus Chapel
July 8, Church Service 11:00 AM at the Old Adelphian Campus Chapel
Potluck after Church will be just down the road at the Adelphian Junior Academy
Sabbath afternoon at 3:00 PM, there will be a Musical at the Holly SDA Church