Webmaster News
If you attended the 2014 Alumni Week-end and have some photos to share, please contact me!
Marlene Murphy, Webmaster - Class of 1965
Class of 1964
50th Year Reunion - 2014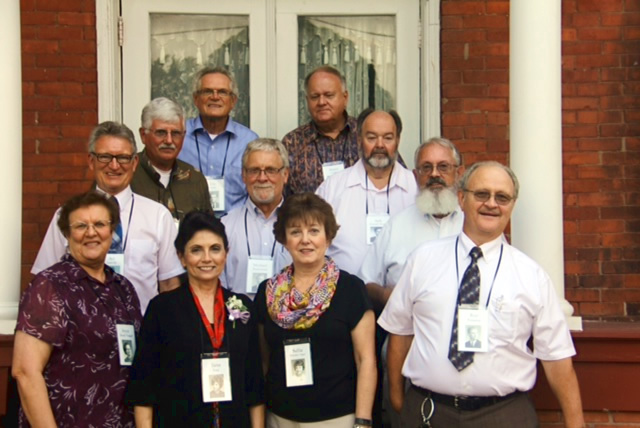 Front Row: Joyce Swett Yeager, Ilene Ivey, Sallie Wheeker Alger, Roy Pomeroy
Second Row: Art Leavitt, Mike Rasmussen, Larry Robinson
Third Row: Don Brockriede, Russell Jack Swartz
Fourth: Eric Arms, Henry Vaden
Not pictured but present for part of the event, David Poitinger.
The following article was written by the Class Chronicler:
Adelphian Reunion, Holly, MI, June 27-28, 2014
Sallie Wheeker Alger, Class of 1964 Chronicler
What fun it was to join class members for our 50th Class of '64 reunion on June 27th and 28th at the former Adelphian Academy campus in Holly, Michigan! Being there brought back a lot of poignant memories.
A dozen of us and some spouses, began the weekend on Friday evening at the Fenton Comfort Inn where we were able to chat and catch up on each other's lives, as well as eat pizza and other goodies together. Some of us then headed to the Holly S.D.A. Church for a vespers program where we sang hymns and listened to other musical presentations.
On Sabbath, the Class of '74 was responsible for the Sabbath School program and did a nice job with special music, a mission PowerPoint presentation and some very touching testimonials from their class members.
During the church service Peggy Hoffmeyer, A. A. Alumni Association President, recalled the history of Adelphian Academy and Ilene Ivey, class Vice-President, welcomed everyone to this special weekend, made introductions, and shared a bit about what Adelphian had meant to her then and through following years.  Art Leavitt provided the reading of scripture and offered an opening prayer.  This was followed with a tribute to our deceased class members by Sallie Wheeker Alger, class Chronicler. Dale Rhodes then led us in the singing of the school song and Henry Vaden called for the offering.
In the sermon hour, Joyce Swett Yeager offered a lively account of her time at Adelphian and what it meant to her then and how the academy experience contributed to shaping her life. She titled her talk "Lil' Ole Me, Adelphian Academy and God".   Mike Rasmussen, class President, then presented a moving talk entitled "Put on Therefore the Armor of God" taken from his life following graduation from Adelphian.  It was an account of how God met him on his road away from spirituality and turned him completely around.  Rick Arms closed the service with a benediction.
After church there was a potluck luncheon at the Holly Junior Academy and another opportunity to meet and chat with other class members.
On Sabbath afternoon we met again at the Holly Church where Dale Rhodes led out in singing, short presentations, and stories about our time as students at Adelphian Academy.   Many people shared what an impact being a student there had made on their lives and how much they appreciated the sacrifice their parents made to enable them to go to a Christian academy.
In the evening our class met at the historic Holly Hotel to eat a lovely meal and share more memories, photos, and reminiscences about our years together as classmates. It was a real time of laughter, picture-taking, and togetherness, and a great way to end the special weekend. It was sad that more of our class members couldn't be there, so we decided that we will try and meet with the class of '63 in the 2016 reunion they are planning.
Classmates who have passed away:
Clayton Edwin Brummett
Beverly L. Chubb
William C. Gallant
Diane L. Powers Scherer
Joseph Allen Keyes
Robert L. Susens